As we close 2014, we begin a new mini-series, taking a snapshot of the prices of various digital cameras of interest. In Episode I, we take a look at 35mm full frame digital cameras. As of the end of December 2014, the picture is different from a couple of years ago, we have a mix of DSLRs, Mirrorless, Rangefinders and Fixed Lens Cameras. To see the charts at a bigger size, "View Image" in browser.
Methodologie
The prices are the consensus price between Amazon and B&H Photo and Adorama as of December 28-29 in 2014. These are new condition with USA warranty prices, from authorized dealers. All the prices are the body only kit prices. Mail-in rebates are factored in when they are offered unconditionally on the camera. In this chart specifically, these three cameras have mail-in rebates: Canon 1D X, 5D Mark III and 6D. Older cameras that are no longer available in new condition with USA warranty at the above retailers as set forth in this paragraph (eg Nikon D600) are not included.
35mm Full Frame Camera Prices as of late December 2014
We have three charts for you, first up, the hot "Under $3000" category, that's where most of the action is. Prices here start at $1300 for Sony, and $1500 getting you into the Nikon or Canon 35mmFF world.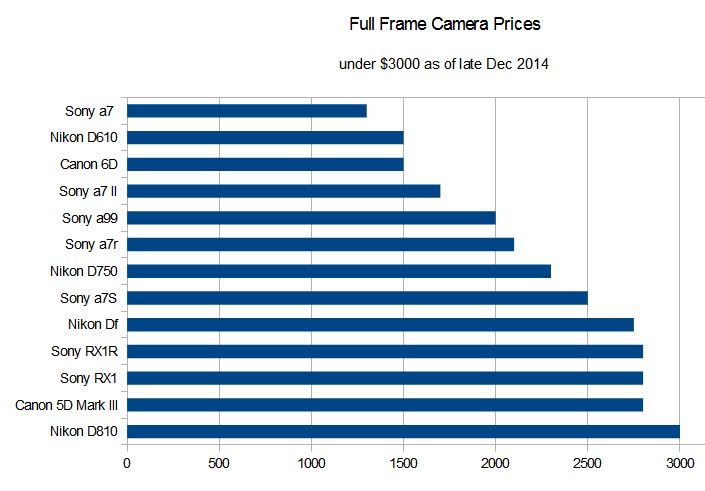 Next up, we have full frame prices of cameras of $3000 or higher. The "lowest" in this range actually starts at $5000 and it is dominated by Leica rangefinders.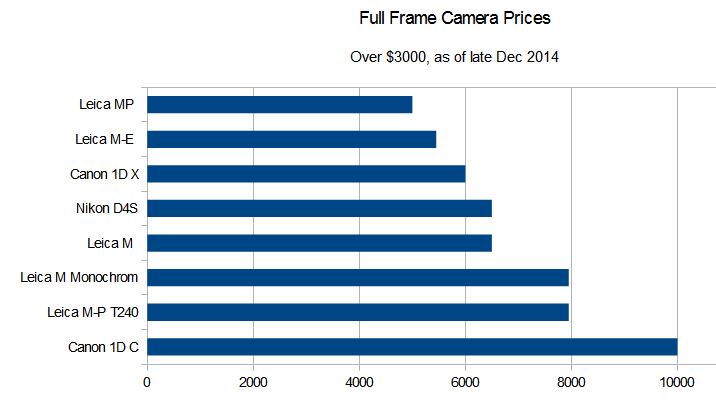 And now the big picture, the whole chart. As you can see, the $3000 to $5000 gap is very visible in the chart even if you look at it from afar (and that's the reason why I "zoomed in" on the sub-$3000 in a separate chart):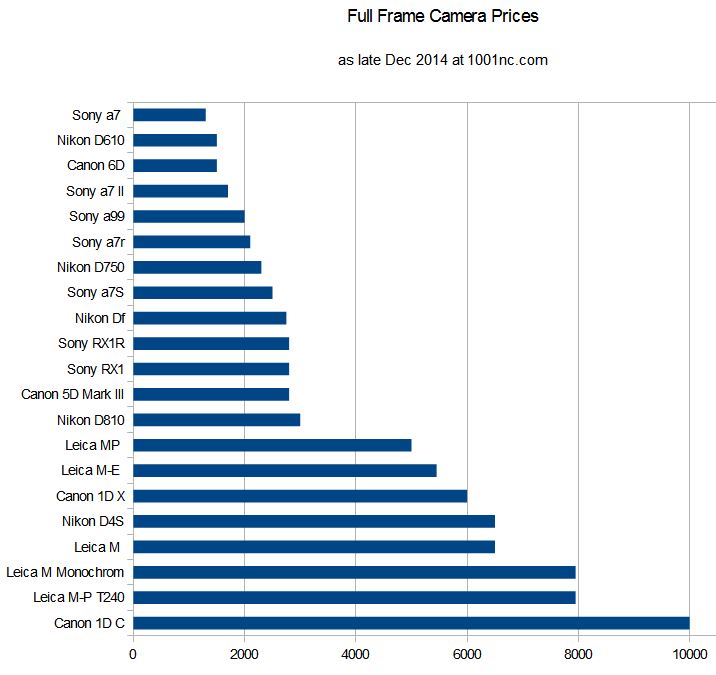 Footnotes
Prices as of Dec 28-29 in 2014 – see second paragraph above for details
Typos, errors, confusions, omissions are always possible. Please leave a comment or use the online contact form. If I don't notice an error and no one mentions it, it won't get fixed on its own 🙂