APS-C dSLRs ushered in the era of "affordable" digital interchangeable lens cameras starting at the historic PMA 2002, where a quartet of dSLRs were announced at what was then considered groundbreaking and accessible $2000~ price range (Nikon D100, Canon 60D, Sigma SD9, Fuji S2 Pro). Converted to 2014 money, that's $2600+. Fast forward twelve years later to today, and one can get an APS-C at almost an order of magnitude the 2002 prices.
As with all technology products, prices steadily went down, and today, APS-C dSLRs are competing in a very crowded field, going up against more affordable Full Frame cameras, an avalanche of mirrorless options, and large-sensor fixed-lens cameras.
In Episode II, we take a look at their prices using two charts. To see the charts at a bigger size, "View Image" in browser.
Methodologie
The prices are the consensus price between Amazon and B&H Photo and Adorama as of December 29 in 2014. These are new condition with USA warranty prices, from authorized dealers (iffy and unauthorized dealers selling at Amazon are ignored). In the first chart, all the prices are the body only kit prices, except for cameras not available as body only kits (a58, D3200, D3200, T5). The second chart is a comparison of "Getting Started With" kits (lens is included). Older cameras that are no longer available in new condition with USA warranty at the above retailers as set forth in this paragraph are not included. None of these have mail-in rebates. For specific notes about individual cameras, check the Footnotes at the bottom.
APS-C DSLR Prices as of late December 2014
Today's APS-C dSLRs have quite a broad range, from the affordable $350 Pentax K-50 to the boutique and niche within a niche Sigma SD1 at $2000. With the emergence of $1500 or less 35mmFF dSLRs, the top end of APS-C is not as busy as it used to be. The Canon 7D Mark II leads the way there. The enthusiastic enthusiast APS-C segment is mostly contained within the $700 to $1000 price range, with all four major SLR manufacturers represented with at least one camera. With Sony focusing more on mirrorless, the entry-point has shifted towards Canon vs Nikon vs Pentax.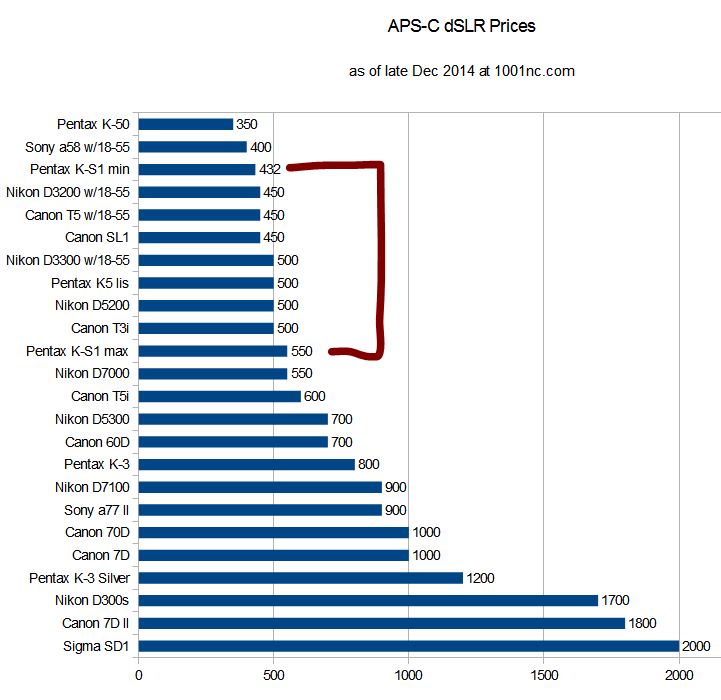 That red line uglyfying the chart? It is the tears of the Free Market. Of all the dSLRs, the only one that has actionable price divergence among the three benchmark retailers is the Pentax K-S1 body only going for as low a $432 and as high as $550. The rest of the cameras are "victims" of "price control".
As mentioned above, most of the cameras in Chart #1 are body only kits, except for the cameras that don't have official body only kits, which are noted with "w/18-55" in their name. This got me thinking and triggered the creation of Chart #2 right below, showing prices of "Getting Started With" kits, meaning, what someone getting their first DSLR might be paying.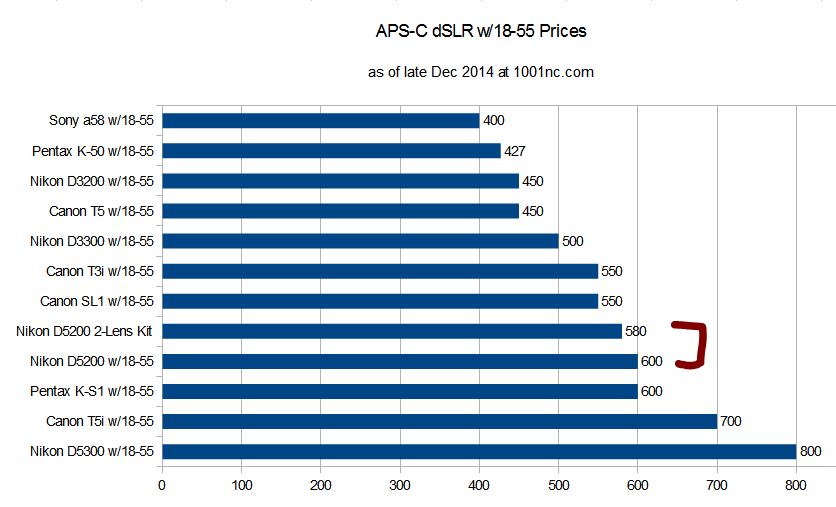 The only unusual listing here is Nikon D5200 whose two lens kit (18-55, 55-200, both DX non-VR) actually sells for $20 less than the one lens kit (18-55mm DX VR).
Footnotes
Prices as of Dec 29 in 2014 – see above for details
Nikon D300s available at B&H Photo only
Nikon D700 available at Amazon only
Canon T3i body and w/18-55 not available at Adorama
Typos, errors, confusions, omissions are always possible. Please leave a comment or use the online contact form. If I don't notice an error and no one mentions it, it won't get fixed on its own 🙂