And we are back with the 2016 edition of our snapshot of camera prices in the US market. We start with the 35mm full frame digital cameras, grouping together all kinds, DSLRs, mirrorless, walletfinders (okay, rangefinders), and fixed lens. Because Medium Format is a very small niche, we are not tracking their prices here… In Episode #2 we look at APS-C DSLR prices…
Where Does The Data Come From?
The prices are the consensus prices between Amazon and B&H Photo and Adorama as of November 1 in 2016. These are new condition with USA warranty prices, from authorized dealers. All the prices are the body only kit prices. Older cameras that are no longer available in new condition with USA warranty from the above retailers, or are available in a very limited fashion, are not included.
35mm Full Frame Camera Prices as of November 2016
The big pattern that emerged during the 2015 vs 2014 comparison was filling the price gap between the upper price tiers and the accessible-to-many-serious-photographers price-tiers.
This year, the pattern is totally different. The prices have on average remained the same. Some went a little down, some some went up, making it more or less a wash. One of the price drops looks to have been very strategic, the Nikon D750 going down to "meet" the Canon 5D Mark III at the $2500 price level. This was the biggest price drop. Coincidence? I think not 🙂 Others increased in price after they were released. Pentax's decades-in-the-making K-1 full frame DSLR started out at $1800 but as of right now it goes for $1950 at the three tracked retailers.
The camera manufacturers are artificially forcing prices to stay put, even though the individual cameras get older, and as digital/technology equipment, in a healthy market, prices would have to go down. So the entry-point into full frame remained the same, $1100 is the lowest you pay for a 35mm FF digital camera (Sony a7), and $1500 for the entry-point into the Canon and Nikon DSLR systems.
The big picture below showing all the generally available models is to give you a sense of the price structure in the market. You can read this chart at a much larger size with the full size .PNG file (fear not, it's only 41K, it won't eat your mobile data!)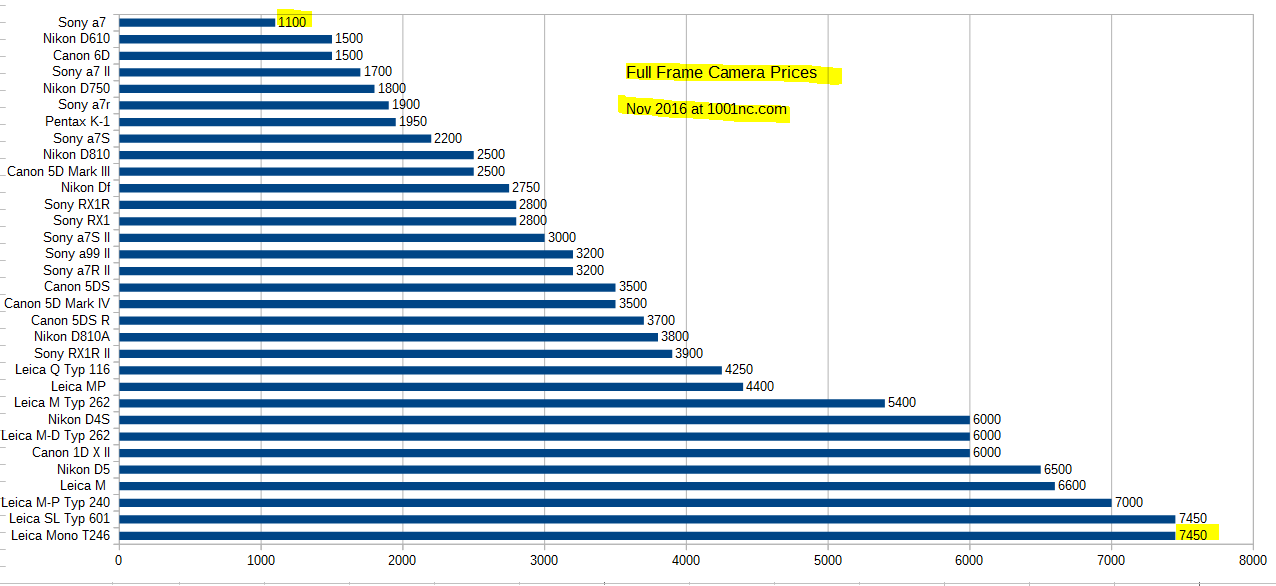 Here is a more readable crop of the chart showing the non-niche full frame digital cameras in the market. This is where the vast majority of full frame photographers live. Leicas are the majority of the cameras above $3500.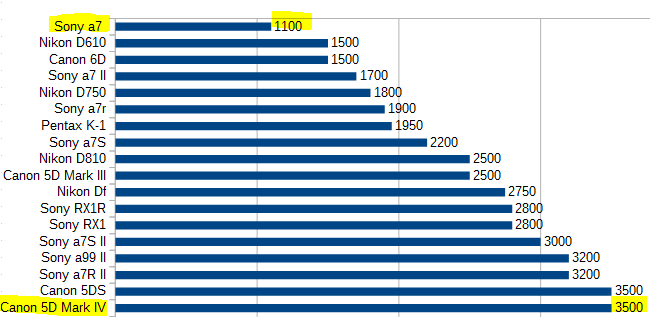 PREVIOUS YEARS
Footnotes
Prices as of November 1 in 2016 – see second paragraph above for details
the Canon 1D X ($4600) and 1D C ($5000) are available in a very limited fashion (only at B&H) and are not included
Prices are more or less uniform among the three tracked retailers, the notable exception is the Sony a7 body only going for $1700 instead of $1100 at Amazon which is likely some kind of error/confusion, because they have the a7 with 28-70mm for $1400. These prices are by Amazon itself, not 3rd-party sellers
since last year, the Sony a99, Leica M-E and Leica M Monochrom are gone, none of the retailers above have them in new condition
new entries in this years charts include the Pentax K-1 (their Full Frame Unicorn), the Nikon D5, Canon 1D X II, Sony a99 II, Canon 5D Mark IV, and of course Leicas
Typos, errors, confusions, omissions are always possible. Please leave a comment or use the online contact form. If I don't notice an error and no one mentions it, it won't get fixed on its own 🙂