In Episode #1 of the November 2016 series, we took a look at the prices of all 35mm Full Frame Digital Cameras… In Episode #2, we took a look at APS-C DSLRs… In this post (Episode III), we take a look at prices of mirrorless cameras. As usual, we do not include rangefinders in this category, and we do not include sensors larger than 35mm since those are very niche (but we saw action there too with the Fuji medium format GFX 50S).
Where Does The Data Come From?
The prices are the consensus prices between Amazon and B&H Photo and Adorama as of November 2 in 2016. These are new condition with USA warranty prices, from authorized dealers. Prices are the body only kit, except for cameras without an official body-only kit – we use the lowest priced standard kit (eg w/18-55) for those. Older cameras that are no longer available in new condition with USA warranty from the above retailers, or are available in a very limited fashion, are not included.
Flagship Mirrorless Prices as of November 2016
There are many mirrorless cameras out there, so we start by taking a look at the flagship camera of each system. Samsung is out of the market now, while finally Canon decided to get serious with a more advanced mirrorless camera, so we are including it here. Sigma too joined the party with the SD Quattro. Their APS-H camera does not have a price yet, so the non-H is the current flagship ~ we only look at real aka "purchasable" products in these price charts. The Pentax Q-S1 is still lingering around but I can't find enough loopholes to call it a flagship camera, adorkable as it may be 🙂
Leica price-leads the way and with that price, it will remain a champion until the next Leica camera. Sony's price-flagship having the 35mm full frame sensor is also guaranteed a second place. Olympus played price-leapfrog with the E-M1 II, whose price was revealed a few days ago [see Stock Status Tracker] jumping ahead of Fuji's latest entries. The Panasonic GH4 and Nikon V3 remained the same flagships as last year.
In yellow highlight below are the new releases since our previous price-chart…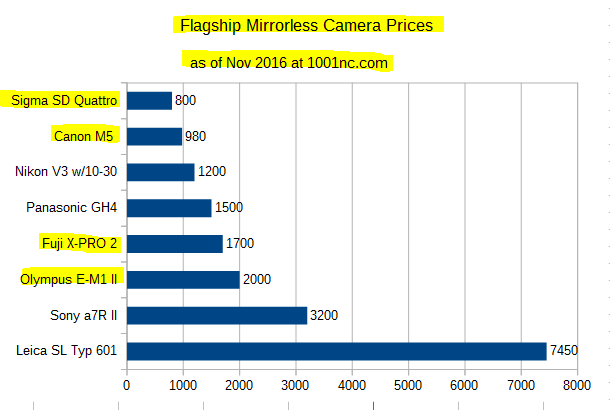 Mirrorless Prices as of November 2016
Compare and contrast the size of this monster chart below with the one of APS-C DSLRs and you can tell where a lot of the action is happening. We had roughly twice as many new mirrorless cameras in 2016 than APS-C DSLRs. If it wasn't for the "Export As Image" option, the chart below would have to be two parts 🙂
Click on the image twice to see it at maximum size (unless you are on a giant vertical monitor) or open the full size PNG file (fear not, it's only 55K, it won't eat up your mobile data).
The Pentax Q-S1 with its atom ant sized sensor is leading the price-bottom in both charts, but sensor-size is not always a factor in pricing. There is a wild mix of 1″ and M43 and APS-C and 35mm Full Frame. For example, the $1100 35mmFF Sony a7 is in the middle, and costs less than the Nikon V3 with its "Angry Inch" sensor 🙂
Just like with DSLRs, the race to the price-bottom is over. Most of the sub-$400 cameras are older. As usual with these charts, we feature the body only price, unless a particular camera does not have an official body-only kit. In those cases, we feature the lowest priced kit (most of the time it's the w/14-42 or w/18-55 and such). This is why you see some cameras in the chart with lenses next to their names.
To save the chart from being totally unreadable, I removed the Leica SL Typ 601, which you can see in all its price glory in the Flagships chart at the top. Its price flattened almost all the other entries in the cart.
Taking a bird's eye view, shows a steady progression of prices from $200 to $2200, so anyone buying specific price points, won't have trouble finding something 🙂 This kinda feels healthy and organic – I think.
While doing this it became painfully obvious that Panasonic's naming scheme is/was in sharp need of a reboot. They have very similarly-named cameras, and the combination of letters and numbers they use is just too similar and overlapping and confusing and non-distinct 🙂 Imagine how the average consumer must feel looking at the soup of Gs and Xs and Fs and 7s and 8s 🙂
The "Take Pictures With" Kits
Body only options are great if you already have lenses or if you are a serious/advanced photographer and you are planning to buy non-entry-level lenses. But for a beginner or someone dipping their toes into a new system (without taking a big financial risk), the "Take Pictures with Kits" (TPwK) are important, since you are ready to take pictures. Some of the cameras that are listed as Body Only in the mega chart above appear here with their kit lenses. This only covers lower prices, where TPwKs are more relevant. Under $650 is the cut-off point, which is why there's only one new camera (yellow highlighter).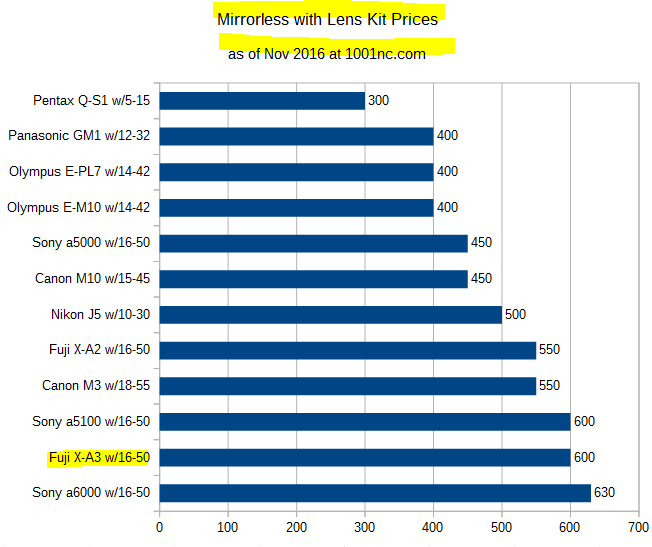 Again, as you can see above, the race to the price-bottom days are over, so for someone looking for lower prices, the used/refurbished market may be an option to look at.
PREVIOUS YEARS
Footnotes
Prices as of November 1 in 2016 – see second paragraph above for details
Prices are more or less uniform among the three tracked retailers
New additions since the previous chart include the Fuji X-T2, X-PRO2, X-E2S, X-A3, Olympus E-M1 II, E-PL8, and Pen-F, Canon M5, Sigma SD Quattro, Sony a6300, Panasonic G85 and GX85, and such
Gone from last year's chart are the Samsung line-up, Fuji X-E2 and X-E1, Nikon S2, Olympus E-M5, E-M10, E-PL6, Panasonic GF6, GF7, GH3, GM5, GX7, and such
Typos, errors, confusions, omissions are always possible. Please leave a comment or use the online contact form. If I don't notice an error and no one mentions it, it won't get fixed on its own 🙂