In Episode #1, we looked at the prices of 35mm Full Frame Digital Cameras. In this episode, we focus on the APS-C dSLRs. As you can see by comparing to the December 2014 edition, the number of APS-C dSLRs has slightly decreased, partially because of full frame expansion and partially because of mirrorless expansion.
Where Does The Data Come From?
The prices are the consensus prices between Amazon and B&H Photo and Adorama as of November 18 in 2015. These are new condition with USA warranty prices, from authorized dealers. There are no mail-in rebates this time around. Older cameras that are no longer available in new condition with USA warranty from the above retailers are not included.
APS-C DSLR Prices as of mid November 2015
The first chart tries to be as inclusive as possible. If a DSLR has an official body only kit, the price of the body only kit is shown (only the camera's name is in the label, eg "Pentax K-S1"). If there is no official body only kit, then the price of the lowest-priced kit (eg with 18-55 or 18-50) is shown, and marked as such (eg "Canon T5 w/18-55).
The second chart compares prices of "take pictures with" kits, in other words, official "camera + lens" kits.
Some cameras have multiple kits and options, and sometimes the 1-lens or 2-lens kits may be better bang for the buck than the body only. This however is beyond the scope of this price chart, as it would complicate things significantly in the organization and presentation (in other words, that's another story for another day).
While the trend is typically for prices to go down or stay the same, the Sony a58 with 18-55 kit is actually $100 more expensive in this snapshot than it was in the December 2014 snapshot.
NOTE: click on the image or view in new tab/window to see a bigger version of the charts below.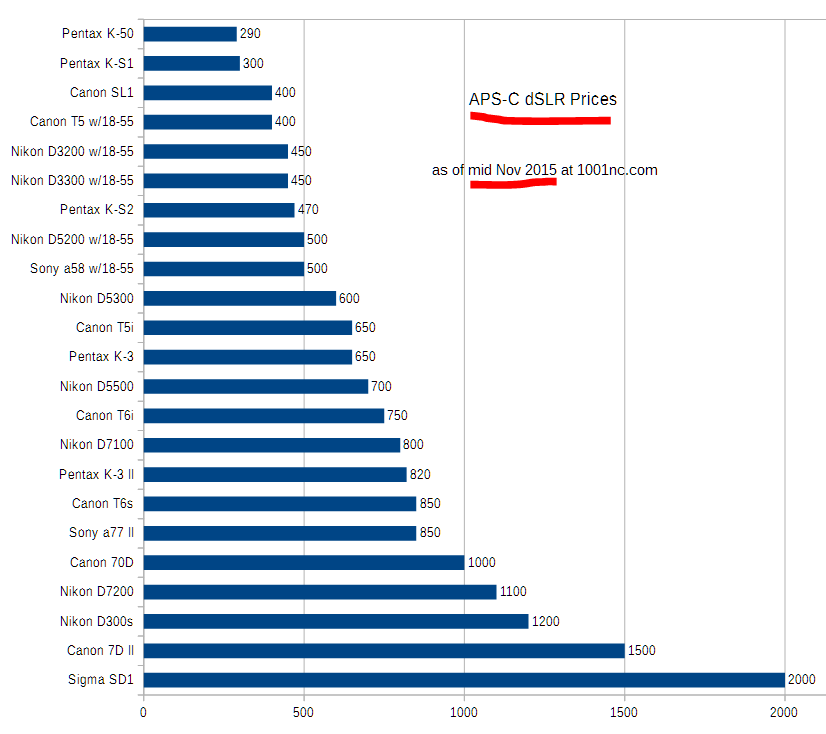 As you can see above, Pentax leads the way the two sub-$300 DSLRs. The price is the lowest price among all the different colors – some of those Pentaxes are playing darts with the color-wheel in terms of color combos 🙂
The chart below is a "take pictures with" comparison, what someone without any previous DSLR gear would buy. Many of these kits are available at mass market brick and mortar retailers or high volume internet retailers. Pentax once again wins the day price-wise, although it's Canons and Nikons you will likely find at the mass market retailers.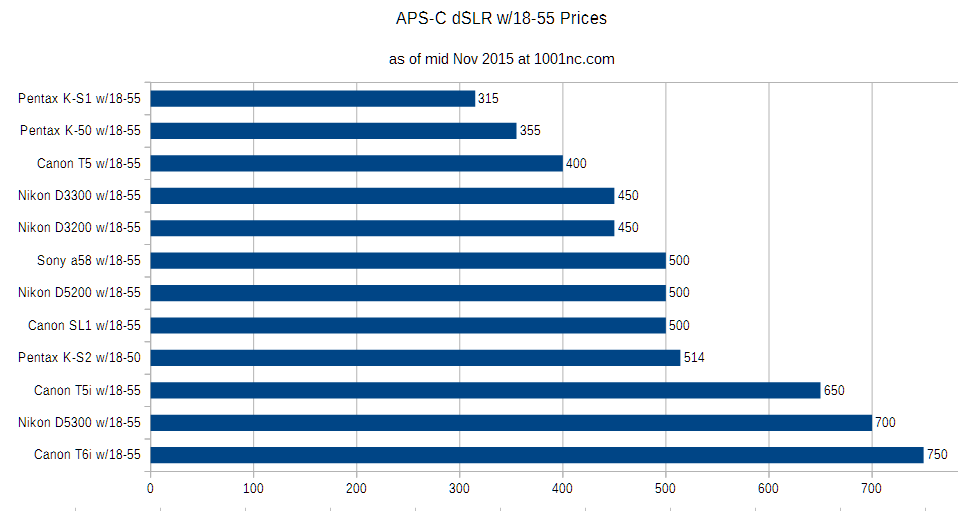 Most of the camera prices are in unison at the tracked authorized retailers, thanks to MAP putting the free market in a straight-jacket. Pentax is the last semi-holdout, there is some price variance with some of their cameras/kits.
Footnotes
Prices as of November 18 in 2015 – see second paragraph above for details
for cameras with multiple body colors, we select the lowest price among the different color schemes
Nikon D300s available at B&H Photo only
the Pentax K-3 II has the most divergent price delta, $900 at B&H and Adorama, $820 via Beach on Amazon (even less at BuyDig but they are not included in this price comparison)
Typos, errors, confusions, omissions are always possible. Please leave a comment or use the online contact form. If I don't notice an error and no one mentions it, it won't get fixed on its own 🙂