And we are back with an early July 2017 edition of our snapshot of camera prices in the US market. We start with the 35mm full frame digital cameras, grouping together all kinds, DSLRs, mirrorless, walletfinders (okay, rangefinders), and fixed lens. Because Medium and Large Format is a small niche (all things considered), we are not tracking their prices here…
JULY 2017 SERIES
+ 35mm FULL FRAME digital cameras
+ APS-C dSLRs
+ Mirrorless Cameras
+ Fixed Lens Cameras
+ APS-C dSLRs vs Mirrorless
+ 35mm Full Frame dSLRs vs Mirrorless
Where Does The Data Come From?
The prices are the consensus prices between Amazon and B&H Photo and Adorama as of July 3rd in 2017. These are new condition with USA warranty prices, from authorized dealers. All the prices are the body only kit prices. Older cameras that are no longer available in new condition with USA warranty from the above retailers, or are available in a very limited fashion, are not included.
FAIRLY STABLE 35MM FULL FRAME PRICES
Steady as she goes is the theme here. About half of the cameras that were tracked in November 2016 have the same price now as they did last year.
Even though digital cameras are adding more "smartphone features", their prices are not quite mirroring flagship smartphone prices. A number of cameras have the same price as they did in our previous update in November 2016. Most of the Sony cameras had price drops since then, but Canons and Nikon stayed put more than they got discounted. A few cameras even went up in price since the last update, most of which were Leicas. The only big discount is the Leica SL Typ 601 that is on sale at B&H Photo but has the same price as last year at Adorama and Amazon.
This is the first time we officially have a sub-$1000 35mm full frame interchangeable lens camera, in new condition, sold at authorized dealers. It is the Sony a7 [CORRECTED] going for $948. It is not a surprise that is the challenger (Sony) offering this and not the Canon/Nikon duo.
Meanwhile Leica got out-trolled/out-priced at the top of the price spectrum with the 100 Year anniversary edition of the Nikon D5 leapfrogging a number of Leica rangefinders.
After the Sony a7, the prices between $1400 and $4550 have a fairly steady staircase pattern, offering various options at each price range.
The mix is as before, DSLRs and mirrorless cameras on the bottom and middle, and rangefinders and pro DSLRs dominating the upper price tier.
Here is the full size chart or click on the one below to see a bigger version…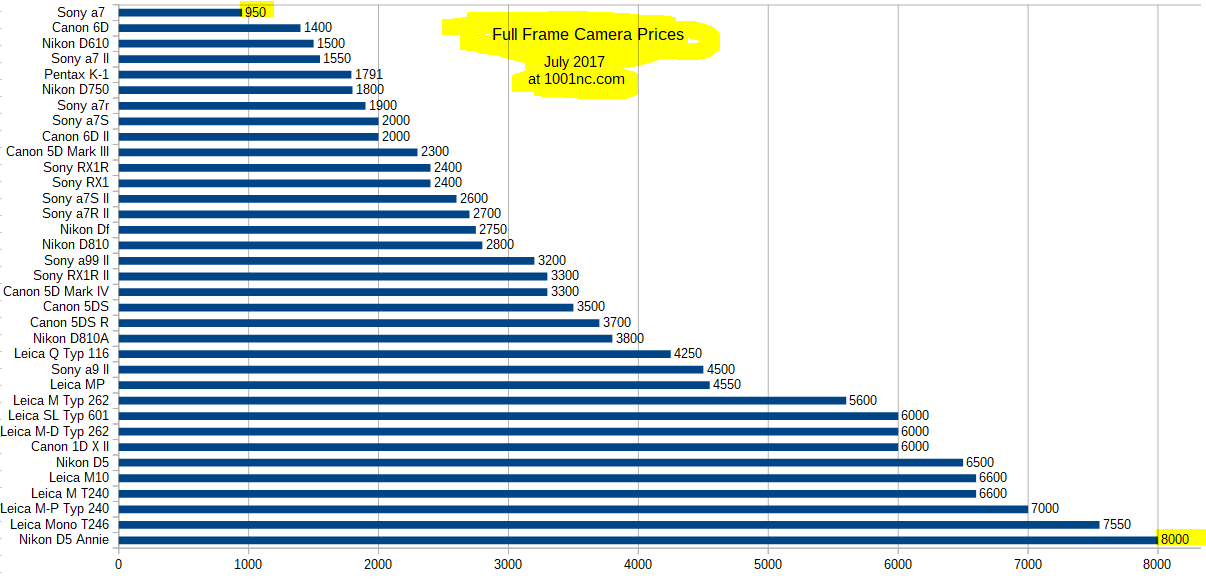 NOTES and FOOTNOTES
Because of very limited availability, these are not included in the chart above: the Sony a99V ($2000) and Canon 1D X ($4600) and 1D C ($5000) and Nikon D4S ($5500). The a99v magically resurfaced at Amazon, while the last three are B&H only
Prices are more or less uniform among the three tracked retailers, the notable exception is the Pentax K-1 which goes for almost $1900 at B&H and Adorama, but a price-bot price-match dropped the price down at Amazon
new entries in this years charts include the Canon 6D Mark II, the Sony a9 II, the Leica M10, and the Nikon D5 100 Year Anniversary Edition
Typos, errors, confusions, omissions are always possible. Please leave a comment or use the online contact form. If I don't notice an error and no one mentions it, it won't get fixed on its own 🙂
PREVIOUS YEARS