Part IV of our July 2017 "Price Charts" series is here, focusing on Serious Fixed Lens cameras of all kinds. This year, I removed cameras with 1/2.x" sensors from consideration ~ sensors growing in size in all directions, even in smartphones.
JULY 2017 SERIES
+ 35mm FULL FRAME digital cameras
+ APS-C dSLRs
+ Mirrorless Cameras
+ Fixed Lens Cameras
+ APS-C dSLRs vs Mirrorless
+ 35mm Full Frame dSLRs vs Mirrorless
Where Does The Data Come From?
The prices are the consensus prices between Amazon and B&H Photo and Adorama as of July 7 in 2017. The article is posted a week after the data was gather due to delays (Prime Day festivities and such). These are new condition with USA warranty prices, from authorized dealers. Older cameras that are no longer available in new condition with USA warranty from the above retailers, or are available in a very limited fashion, are not included.
ALIVE AND KICKING
This segment of the market did not have as many new models since our previous update in November 2016, but there are still certainly plenty of choices in the market, going from $400 to $4250. The two new entries were the Fuji X100F, a continuation in the very popular series, and the second generation of the Canon G9X.
However, we lost more cameras than we gained in this segment, older models mostly (Fuji X100T, X30, Canon G7X, Leica X Typ 113, X-E Typ 102 [these are awkwardly goofy names] and X2, Sigma DP2 Merrill, Lytro Illum and Panasonic FZ300. Also gone is the Nikon DL series which is a bit of an existential discussion, since we never really had them in the first place. So the losses are cyclical phase outs, nothing to really worry about despite the difference between IN and OUT.
One philosophical way to divide this market is the lens. There are three subgroups, the Prime lenses (eg Fuji X100F, Ricoh GR II), the modest zooms (eg Canon G, Sony RX100), and a fairly new entrant, the superzooms (Panasonic-made cameras only).
Sony and Canon dominate this segment with elaborate line-ups. Canon has six models ranging from $400 to $850, while Sony has a …soccer team of them, a total of 11 cameras in the RX-series. All five of the RX100 models are still alive and kicking in the market (a rarity considering these are not even professional DSLRs who usually have longer staying power), and so are the the three RX10 models, and the three RX1* models. Sony's line is even more diverse, ranging in price from $450 to $3300, and in sensor size from 1-inch to 35mm full frame. Canon on the other hand operates in a more narrow price range, $400 to $850, and sensor size (1 to 1.5).
Panasonic is making a strong move in this segment now that three of their superzoom models have moved from the tiny 1/2.x" sensors to 1-inch. Not just the FZ-series but also the top ZS-series model. These three, along with a two tier classic LX-series give them a five model line-up ranging from $650 to $1200. Panasonic is unique in this group in that they are unapologetically pursuing superzooms in this segment (there's also a Leicasonic remodel of one of them).
Fuji is perhaps one of the companies taking credit for rejuvenating interest in this segment with the launch of the X100 series way back, but now that they have a more elaborate X System line-up, they are not as aggressive with their line-up size. They have just two models, the X100F leading the way, and the X70 for almost half the price.
Nikon, Olympus, and Pentax are not in this market segment, but Pentax's mothership continues to offer the Ricoh GR II.
A bit of a surprise perhaps to those not following closely, Leica has built a bit of a line-up in this segment as well, partially thanks to their cooperation with Panasonic. Leica has four models, each one with a different size sensors. Leica's own models are priced Leica-style, they are the two higher prices.
Also having a four model line-up quietly is Sigma and the Foveon generation with four dp-series Quattro. This is more of a narrow band line-up, with the models being within $150 of each other, and similar in many ways.
THE APS-C RAWSUMERS
Another way to divide this segment is by sensor size. We have a lot of variety here, going from 1″ up to 35mm full frame. The two busiest segments are the APS-C and 1-inch sensor sizes. Of the 33 cameras in this segment, 26 of them are in these two segments.
Considering the abundance of APS-C DSLRs and Mirrorless cameras, one would expect to have more entries in this segment. Their number here is a bit inflated because of the quartet of Quattros (sorry, I couldn't resist). Sony, Canon and Panasonic are not "playing" in this segment at the moment. But it got one of the two new entries this year in the Fuji X100F. And it is blessed with an original Leica too 🙂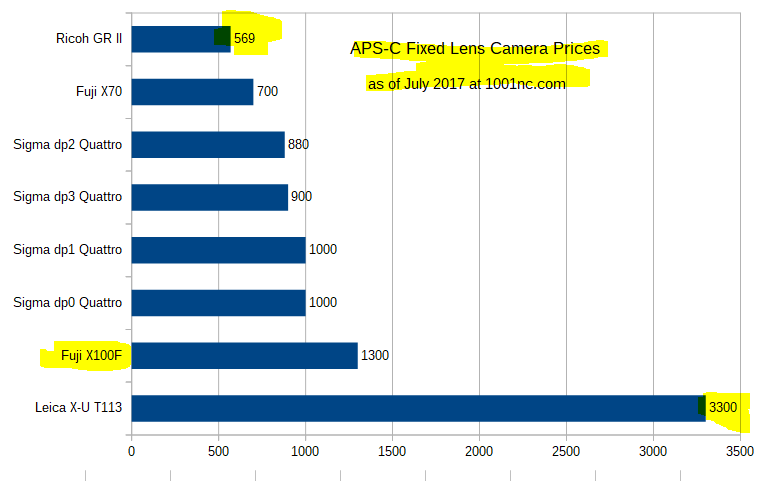 THE 1-INCH SENSORS
This is the most populous segment in terms of sensor size, it's the Battle of Evermore between Sony and Canon with the RX100-series vs the G-series! We had the other new entry in this segment, the second generation of the Canon G9X. But with the embrace of 1-inch sensors in superzooms, Panasonic is now becoming a player in this segment as well.
In fact, when you consider that the Leica entry here is based on a Panasonic camera, these are the only three actual manufacturers in this segment. The Nikon DL-series had a 1-inch sensor but it is no more.
NOTES and FOOTNOTES
Prices are more or less uniform among the three tracked retailers
Typos, errors, confusions, omissions are always possible. Please leave a comment or use the online contact form. If I don't notice an error and no one mentions it, it won't get fixed on its own 🙂
PREVIOUS YEARS